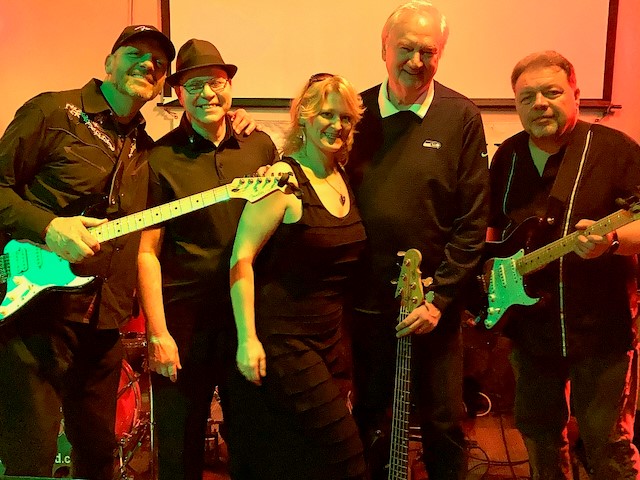 Raucous [pronounced "Rock Us"] presents an energy-packed, audience-friendly performance playing a wide variety of classic rock and dance music.

Raucous has performed at clubs, casinos, dances, festivals, fairs and various events throughout the Pacific Northwest. Casinos include the Quinault Beach Resort [Ocean Shores]; the 7 Cedars [Sequim]; the Little Creek [Shelton]; the Wild Horse [Pendleton, OR.]; the Royal [Lynnwood]; Suquamish Clearwater [Agate Pass]; the Silver Reef [Ferndale]; the Big Apple [Everett]; and Rascals [Seattle].
Raucous fair performances include: the Western Washington [Puyallup], Clark County, Spokane Interstate, the Mason County, Skagit County, Island County, Key Peninsula Community, Stanwood-Camano, Thurston County; the Kitsap County Fair, Stampede & Rodeo; and the Evergreen State Fairs.
Raucous has been selected to perform 7 times for the Seattle Out To Lunch concert series; 6 years at the Bite of Seattle; and 9 times at the Taste of Tacoma; and many festivals in the Puget Sound area, including: 4 times at Alpine Days or the Festival At Mt. Si [North Bend]; 5 times at Auburn Good Ol' Days, and 2 times at the Kirkland 4th of July Celebrations; 9 times at the West Seattle Junction Festival; twice at Everett Salty Sea Days; 6 times at Issaquah Salmon Days; 3 times at Kent Cornucopia Days; the Magnolia Summer Festival, the Mercer Island Summer Celebration; twice at Renton River Days; 3 times at the SeaTac International Festival; twice at Tukwila Days; 5 times at White Center Jubilee Days [including with Garth Brooks' band]; and at Music In The Parks series at Angle Lake Park - SeaTac, Edmonds, Everett, Friday Harbor, Kingston, Newcastle, Normandy Park, Burien, Des Moines, and twice at Steel Lake Park (Federal Way).